** Use at Your Own Risk **
19I

Bailey Peak

5699'
(UTM 662909)
Location: San Bernardino County, about 11 miles north-northwest of San Bernardino, 88 miles from Los Angeles
Maps
| | |
| --- | --- |
| Auto Club | Los Angeles and Vicinity, San Bernardino Mountain Area |
| Forest Service | San Bernardino National Forest |
| USGS Topos | Silverwood Lake 7½, Cajon 7½ |
| Official HPS Maps | TPO file - Save to your computer then open with National Geographic TOPO! |
| | Viewable JPG file - Approximately 1.8 megs |
| | GPX file or Google Earth KML file to download to GPS units and other map software (How to use GPX and KML files) |
| | Routes as shown on CalTopo using the above files (How to use CalTopo) |

Nearby Peaks: Cleghorn Peak, Cajon Mountain, Sugarpine Mountain, Monument Peak #2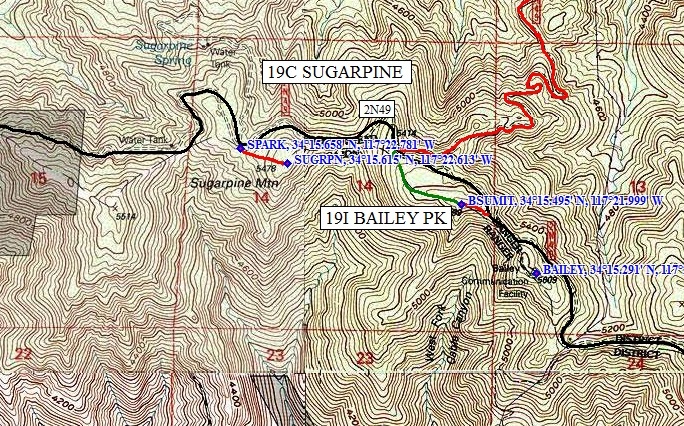 ---
Printable version of this route
ROUTE 1 - Drive up
(USFS Adventure Pass may be required)
Distance: 1/3 mile round trip on jeep trail

Gain: 160'

Time: 1/4 hour round trip

Rating: Class 1, easy

Leader Rating: "O"


Original: Peter Doggett, December 2008
DRIVING ROUTE 1
Drive east on I-10 to I-15, then north on I-15 to SR 138. Turn right (east).
Go 8.0 miles to the junction with SR 173 on the left near Lake Silverwood. Keep straight on SR 138.
Drive another 2.6 miles and exit on Cleghorn Road (2N49). At the bottom of the off-ramp, turn right on 2N49. Note your odometer and go as follows:
At 0.8 mile, pavement ends.
At 1.4 miles, fork. Go right.
At 2.4 miles, fork. Go right.
At 4.0 miles, Cleghorn Pass and a hairpin turn at two water tanks.
At 6.3 miles, Cajon Lookout road fork on the right. This is the parking spot for Cajon Mountain. Keep left.
At 8.7 miles, saddle. This is the parking spot for Sugarpine Mountain.
At 9.4 miles, fork. Go right. This is the parking spot for the Alternate Route, below.
At 9.9 miles, saddle. Park here. Ample parking.
HIKING ROUTE 1
From the parking area (5540'), hike northwest up a steep jeep trail to the summit.
Note: The peak with antennas to the southeast is labeled "Bailey" on some maps, but is not the HPS summit.
ALTERNATE ROUTE
Park at the fork at 9.4 miles in the Route 1 driving directions. Hike southeast following the ridge to the summit. This is about 3/4 miles round trip, 300' gain, 1/2 hour round trip.
SPECIAL CONDITIONS
The dirt roads are seasonal.
---
Printable version of this route
ROUTE 2
(USFS Adventure Pass may be required)
Distance: 8.5 miles round trip on dirt road

Gain: 2350'

Time: 4 hours round trip

Rating: Class 1, easy


Original: Ted Lubeshkoff, November 2010
DRIVING ROUTE 2
Drive to the junction of I-15 and SR 138. The McDonalds just south of here is a convenient meeting point.
Drive east on SR 138 11.5 miles to Cottonwood Ranger Station. Turn right into the lot.
HIKING ROUTE 2
From the parking area (3500'), hike up gated road 2N45 on the east side of the lot.
Hike 0.25 miles to a junction with a new Edison Road ( yr 2020) that goes to the left and much more prominent than 2N45. Keep to the right on 2N45, now (2020) overgrown from the sides with brush and trees.
Hike 0.5 miles to a creek and cross it.
From the other side of the creek, hike 0.2 miles to a road junction. Turn right.
Hike 100 yards to the next road junction and turn left to continue on road 2N45.
Hike 2.7 miles, staying right at each fork to road 2N49 (5400'). Turn left.
Hike 0.5 miles to where the ridge meets the road on the right.
Hike up the jeep road on the right 0.1. miles. Summit will be on the left.
---
Please report any corrections or changes to the Mountain Records Chair.
---