** Use at Your Own Risk **

See the Retired Peak Guides in the Archives for Microsoft Word and other versions of this peak guide.

Location: San Bernardino County, about 13 miles north-northwest of San Bernardino, 86 miles from Los Angeles
Maps
| | |
| --- | --- |
| Auto Club | Los Angeles and Vicinity, San Bernardino Mountain Area |
| Forest Service | San Bernardino National Forest |
| USGS Topo | Cajon 7½ |
| Official HPS Maps | TPO file - Save to your computer then open with National Geographic TOPO! |
| | Viewable JPG file - Approximately 1.8 megs |
| | GPX file or Google Earth KML file to download to GPS units and other map software (How to use GPX and KML files) |
| | Routes as shown on CalTopo using the above files (How to use CalTopo) |

Nearby Peaks: Sugarpine Mountain, Bailey Peak, Monument Peak #2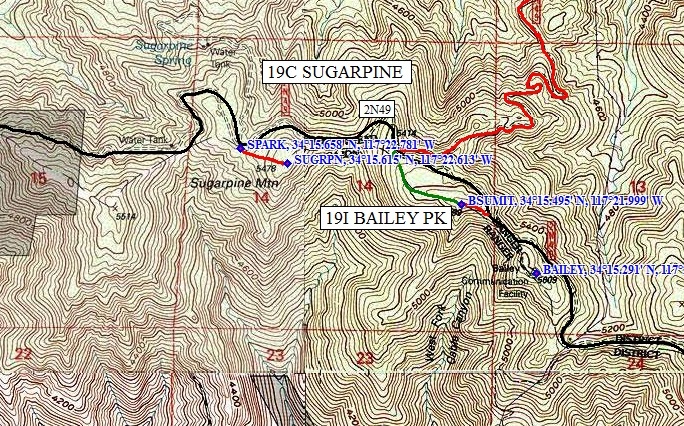 ---
Printable version of this route
ROUTE 1
(USFS Adventure Pass may be required)
Distance: 3 miles round trip on road and cross-country

Gain: 500' total, 400' out plus 100' on return

Time: 2 hours round trip

Rating: Class 1, easy

Leader Rating: "O", normal conditions


Original: Warren E. von Pertz and Paul A. Lipsohn, 1974
DRIVING ROUTE 1
Drive east on I-10 to I-15, then north on I-15 to SR 138. Turn right (east).
Go 8.0 miles to the junction with SR 173 on the left near Lake Silverwood. Keep straight on SR 138.
Drive another 2.6 miles and exit on Cleghorn Road (2N49). This is also the main entrance to Lake Silverwood. At the bottom of the off-ramp, turn right on 2N49. Note your odometer and go as follows:
At 0.8 mile, pavement ends.
At 2.4 miles, fork. Go right.
At 4.0 miles, Cleghorn Pass and a hairpin turn at two water tanks.
At 6.3 miles, Cajon Lookout road fork on the right. Park here. (The gate is sometimes open, but there is no way to confirm this in advance.) Adequate parking.
HIKING ROUTE 1
From the parking area (5000'), hike west down the road past the saddle at 4645' and continue about 1/2 mile before reaching a shallow saddle 1/4 mile east of the former lookout (west of the peak).
Go up the use trail that starts here and leads east though the brush to the summit. The "lookout" has been removed and the remaining radio facility location is not the summit. The brush can be very dense if not groomed.
SPECIAL CONDITIONS
The dirt roads are seasonal.
---
Please report any corrections or changes to the Mountain Records Chair.
---