** Use at Your Own Risk **
Location: Los Angeles County, about 4 miles SSW of Wrightwood
Maps
| | |
| --- | --- |
| Auto Club | Los Angeles and Vicinity |
| Forest Service | Angeles National Forest |
| USGS Topo | Mount San Antonio 7½ |
| Official HPS Maps | TPO file - Save to your computer then open with National Geographic TOPO! |
| | Viewable JPG file - Approximately 920K |
| | GPX file or Google Earth KML file to download to GPS units and other map software (How to use GPX and KML files) |
| | Routes as shown on CalTopo using the above files (How to use CalTopo) |

Nearby Peaks: Pine Mountain Ridge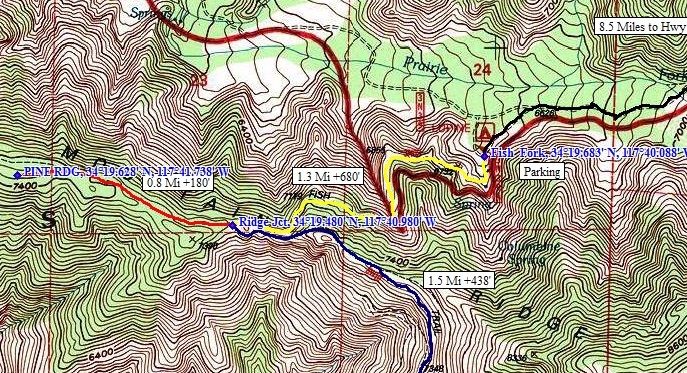 ---
Printable version of this route
ROUTE 1
(USFS Adventure Pass may be required)
Distance: 5.5 miles round trip on old dirt road and use trail

Gain: 1744' total, 1172' out plus 572' on return

Time: 3 hours round trip

Rating: Class 1, easy


Original: Peter & Ignacia Doggett, September 2010
DRIVING ROUTE 1
Go east on I-10 to I-15.
Go north on I-15 to SR 138
Go west on SR 138 to SR 2
Go through Wrightwood & 4 miles further to N4.
Stay on SR 2 and drive 1.8 miles further to the Blue Ridge Road (3N26).
Turn left on 3N26 and note your odometer.
At 0.2 mile, fork; keep right.
At 1.3 miles, fork; keep left.
At 2.4 miles, Blue Ridge Campground, keep straight, pavement ends.
At 4.4 miles, gate; keep straight.
At 5.1 miles, fork (to Guffy Campground); turn right on 3N06.
At 5.6 miles, fork; turn right on 3N39.
At 8.5 miles, Fish Fork Trailhead. Park here.
HIKING ROUTE 1
From the parking area (6626'), begin in a southwest direction and stay left on the main trail at the first fork, about 100 yards from the parking area.
At about ¼ mile, a flowing spring descends down the gully and crosses the trail.
Follow the trail for about 1¾ miles to the Pine Mountain ridgeline (elevation 7270'). Excellent views from here.
Upon reaching the ridgeline, turn left and follow another dirt road up for ½ mile (gaining 250') to a sometimes broken Fish Fork Trail sign (elevation 7520').
Do not continue up the ridge. Instead, head southeast and follow the dirt road and then a use trail for about 1 mile to the summit.
The summit is an obvious high point in a grove of sugar pine trees. There is about 75' of gain, just as one reaches the top.
---
SPECIAL CONDITIONS
The gate at Guffy Campground may be closed. It is possible to hike the peak from the campground via the Pacific Crest Trail (PCT), which passes near the campground.
NOTE
Contact Angeles National Forest (661) 269-2808, to see if the roads are open. These roads are normally closed each winter from about mid-November until May because of skiers and snow.
Please report any corrections or changes to the Mountain Records Chair.
---