** Use at Your Own Risk **
| | | |
| --- | --- | --- |
| 16K | Pine Mountain Ridge | 7440'+ |
Location: Los Angeles County, about 4 miles WSW of Wrightwood
Maps
| | |
| --- | --- |
| Auto Club | Los Angeles and Vicinity |
| Forest Service | Angeles National Forest |
| USGS Topos | Mount San Antonio 7½ |
| Official HPS Maps | TPO file - Save to your computer then open with National Geographic TOPO! |
| | Viewable JPG file - Approximately 920K |
| | GPX file or Google Earth KML file to download to GPS units and other map software (How to use GPX and KML files) |
| | Routes as shown on CalTopo using the above files (How to use CalTopo) |

Nearby Peaks: Wild View Peak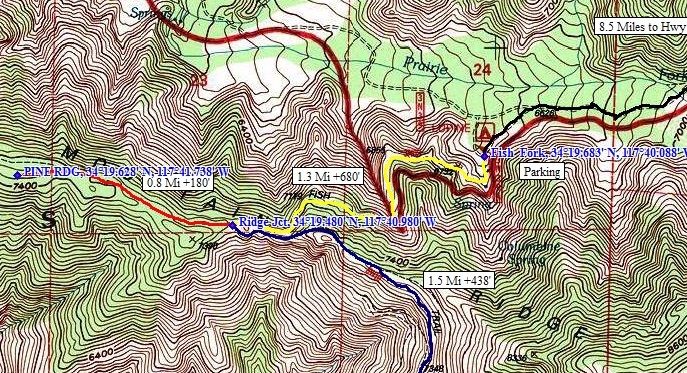 ---
Printable version of this route
ROUTE 1
(USFS Adventure Pass may be required)
Distance: 4.2 miles round trip on old dirt road

Gain: 952' total, 913' out plus 39' on return

Time: 2½ hours round trip

Rating: Class 1, easy


Original: Peter & Ignacia Doggett, September 2010
DRIVING ROUTE 1
Go east on I-10 to I-15.
Go north on I-15 to SR 138
Go west on SR 138 to SR 2
Go through Wrightwood & 4 miles further to N4.
Stay on SR 2 and drive 1.8 miles further to the Blue Ridge Road (3N26).
Turn left on 3N26 and note your odometer.
At 0.2 mile, fork; keep right.
At 1.3 miles, fork; keep left.
At 2.4 miles, Blue Ridge Campground, keep straight, pavement ends.
At 4.4 miles, gate; keep straight.
At 5.1 miles, fork (to Guffy Campground); turn right on 3N06.
At 5.6 miles, fork; turn right on 3N39.
At 8.5 miles, Fish Fork Trailhead. Park here.
HIKING ROUTE 1
From the parking area (6626'), begin in a southwest direction and stay left on the main trail at the first fork, about 100 yards from the parking area.
At about ¼ mile, a flowing spring descends down the gully and crosses the trail.
Follow the trail for about 1¾ miles to the Pine Mountain ridgeline (elevation 7270'). Excellent views from here.
Continue westward (right) along an old dirt road for another ¾ mile until one reaches the highest point on the ridgeline (7440'+).
---
NOTE
Contact Angeles National Forest (661) 269-2808, to see if the roads are open. These roads are normally closed each winter from about mid-November until May because of skiers and snow.
Please report any corrections or changes to the Mountain Records Chair.
---