** Use at Your Own Risk **

See the Retired Peak Guides in the Archives for Microsoft Word and other versions of this peak guide.

Location: Santa Barbara County, about 13 miles north of Summerland, 120 miles from Los Angeles
Maps
| | |
| --- | --- |
| Auto Club | Santa Barbara County |
| Forest Service | Los Padres National Forest: Mt Pinos, Ojai and Santa Barbara Ranger Districts |
| USGS Topos | Hildreth Peak 7½, Old Man Mountain 7½ |
| Official HPS Maps | TPO file - Save to your computer then open with National Geographic TOPO! |
| | Viewable PDF file - Approximately 6.5 megs |
| | GPX file or Google Earth KML file to download to GPS units and other map software (How to use GPX and KML files) |
| | Routes as shown on CalTopo using the above files (How to use CalTopo) |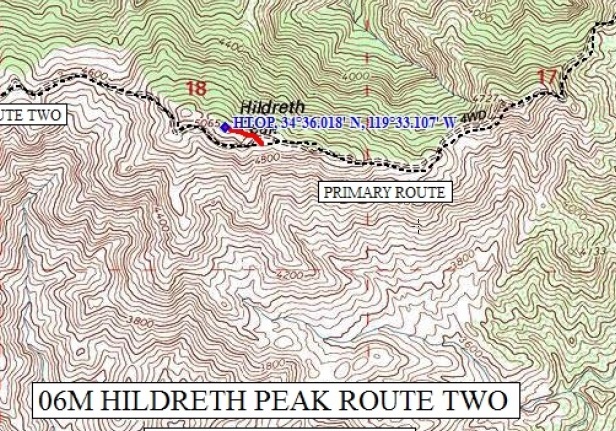 ---
Printable version of this route
ROUTE 1
(USFS Adventure Pass may be required)
Distance: 16 miles round trip on trail, cross-country, and road

Gain: 4700' total, 3900' out plus 800' on return

Time: 10-11 hours round trip

Rating: Class 1, strenuous

Navigation: Intermediate

Leader Rating: "I", normal conditions


Original: Howland Bailey, February 1968
DRIVING ROUTE 1
Take US 101 to Santa Barbara. Exit at Salinas Street.
Go 0.75 mile to a traffic circle at Sycamore Canyon Road (SR 144). Turn right.
Go 1.1 miles to Stanwood Drive (SR 192). Turn left.
Go 1.1 miles to El Cielito Road. Turn right.
In 0.3 mile, 4-way stop. Drive straight on El Cielito.
Go 0.2 mile to Gibraltar Road. Turn right.
Go 6.3 miles to Camino Cielo (unsigned). Turn right.
Go 6.7 miles to Romero Saddle.
Continue on this road, staying on the main road at any forks, as it goes down along the north side of the ridge, 5.3 miles to Juncal Campground. Immediately after crossing a shallow stream, turn left (northwest) at a fork.
Go 3 miles to the Pendola Guard Station. Turn right.
Go 2.7 miles to Caliente Hot Spring (Agua Caliente Spring). Park here.
HIKING ROUTE 1
From the parking area (1950'), hike up the trail on the left side of the stream. It crosses the stream in about 0.25 mile and comes back along the other side and goes up past a concrete dam.
Follow the trail up Agua Caliente Canyon, crossing a stream a number of times. Do not go up Diablo Canyon by mistake! After crossing the main stream 10 times, there will be a small campsite on the left side with a picnic table.
After crossing the main stream 4 more times, and just before the 5th, leave the trail to the left. Go northwest up the ridge that starts there, following an old roadbed and then use trails, to the prominently visible bump 3511'.
Continue down the ridge on use trails, staying on the southwest side, over a brushy plateau at 3480'. Meet a jeep road in the shallow saddle at 3350' just west of bump 3511'.
Turn right on this undulating road and follow it to where it comes out on the ridge just past (east) of the peak (4950').
Turn left off the road here (there may be a duck) and go west along the north side of the ridge and up over some rocks to the summit.
SPECIAL CONDITIONS
The dirt road is seasonal. It is sometimes closed a short distance before the hot springs adding several miles to the hiking distance.
Visitors at the hot springs can be very noisy late into the night. There are several good campsites prior to the hot springs.
Caliente Hot Springs is about a 1.5 hour drive from US 101 in Santa Barbara.
The number of stream crossings counted in the hiking directions may be subject to change.
---
Printable version of this route
ROUTE 2
(USFS Adventure Pass may be required)
Distance: 29 miles round trip on road and cross-country

Gain: 6000' total, 3000' out plus 3000' on return

Time: various, depending on whether hiking, backpacking or biking

Rating: Class 1, strenuous


Original: John Backus, September 1985
DRIVING ROUTE 2
Take US 101 and SR 33 to the town of Ojai.
From the intersection of SR 150 and SR 33 in Ojai, go north on SR 33 for 32 miles to Reyes Summit. Turn left at a gated and locked dirt road. This is the Potrero Seco Road. Park here.
HIKING ROUTE 2
Hike or bike past the gate and continue on the road.
Go 3.4 miles, keeping right at all forks to a cattle guard. Continue straight.
At 4.9 miles, Don Victor trail on the right. Continue straight.
At 7.3 miles, fork. Go right.
At 8.1 miles is a set of large gendarmes marked on the TOPO as "Three Sisters". This was the previous parking location when driving in was allowed. The summit is 14 miles round trip from this point, 5000' total additional gain, 2500' out plus 2500' on return.
From this previous parking area, a dirt road starts and goes west. Follow this road along a ridge with many ups and downs to a saddle just east of Hildreth.
Proceed as in Route 1. The summit of Hildreth is visible for most of this route.
---
Please report any corrections or changes to the Mountain Records Chair.
---