** Use at Your Own Risk **

See the Retired Peak Guides in the Archives for Microsoft Word and other versions of this peak guide.

Location: Riverside County, about 14 miles south-southwest of Palm Desert, 134 miles from Los Angeles
Maps
| | |
| --- | --- |
| Auto Club | Riverside County |
| Forest Service | San Bernardino National Forest |
| USGS Topos | Toro Peak 7½ |
| Official HPS Maps | TPO file - Save to your computer then open with National Geographic TOPO! |
| | Viewable PDF file - Approximately 510K |
| | GPX file or Google Earth KML file to download to GPS units and other map software (How to use GPX and KML files) |
| | Routes as shown on CalTopo using the above files (How to use CalTopo) |

Nearby Peaks: Santa Rosa Mountain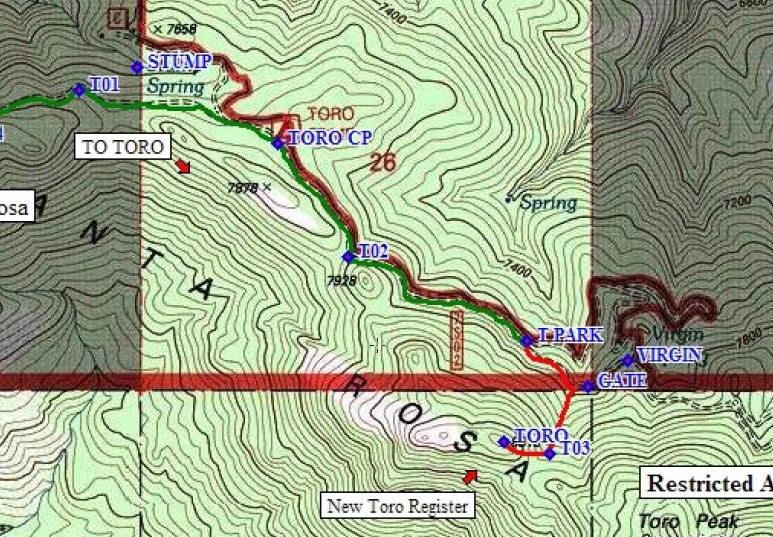 ---
Printable version of this route
ROUTE 1 - South Gully from Reservation Boundary
Distance: 1 mile round trip cross-country in forest

Gain: 500'

Time: 1 hour round trip

Rating: Class 1, easy


Original: Karen Leverich, 2003
DRIVING ROUTE 1
Take SR 60 east to I-215.
Go south on I-215 to the Ramona Expressway. Turn left (east).
Go east and then southeast on the Ramona Expressway until it ends at SR 74. Turn left (east).
Go east on SR 74 to Mountain Center.
Continue east on SR 74 for 12.5 miles to the intersection with SR 371 on the right.
Continue east on SR 74 about 5.2 miles to a dirt road 7S02 on the right signed "Santa Rosa Mtn.". Turn right. Note your odometer and go as follows:
At 8.5 miles, fork to the left. Keep straight.
At 8.9 miles, fork to the left. Keep straight.
At 9.8 miles, fork. Turning sharply right leads to Santa Rosa Mountain. Continue straight.
At 11.5 miles, stop at the Y-junction and park near the junction.
HIKING ROUTE 1
From the parking area (7800'), hike up the right-hand road fork, which heads uphill to a nearby gate. The gate is often closed but sometimes open.
Leave the road at the gate and ascend a forested gully to the south.
Reach an obvious saddle after 400' gain, then turn right (west) and climb adjacent bump 8316'.
This bump is Toro West Peak, the register location. The traditional summit of Toro Peak lies 0.6 miles to the southeast and should be avoided.
ACCESS NOTE
The traditional (highest) summit of Toro Peak is located at an electronic site within the Santa Rosa Indian Reservation. Public access is currently restricted. This guide provides directions to the register location on the west summit, elevation 8316', which lies entirely within the National Forest.
SPECIAL CONDITIONS
7S02 may be closed during fire season or rainy season, and is treacherously icy in winter. For road condition, check with the Forest Service in Idyllwild, 909 382-2921.
---
Please report any corrections or changes to the Mountain Records Chair.
---