** Use at Your Own Risk **

See the Retired Peak Guides in the Archives for Microsoft Word and other versions of this peak guide.

Location: Riverside County, about 6 miles east-southeast of Idyllwild, 114 miles from Los Angeles
Maps
| | |
| --- | --- |
| Auto Club | Riverside County, Los Angeles and Vicinity |
| Forest Service | San Bernardino National Forest, San Jacinto Wilderness |
| USGS Topos | Idyllwild 7½, Palm View Peak 7½ |
| Official HPS Maps | TPO file - Save to your computer then open with National Geographic TOPO! |
| | Viewable JPG file - Approximately 840K |
| | GPX file or Google Earth KML file to download to GPS units and other map software (How to use GPX and KML files) |
| | Routes as shown on CalTopo using the above files (How to use CalTopo) |

Nearby Peaks: Spitler Peak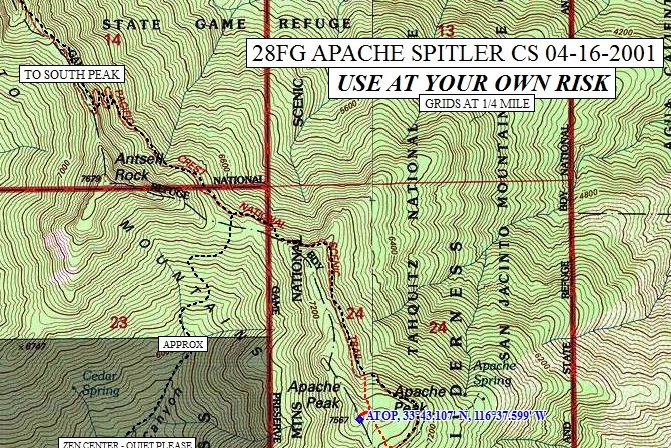 ---
Printable version of this route
ROUTE 1
(USFS Adventure Pass may be required)
Distance: 12 miles round trip on trail and a short, brushy cross-country segment

Gain: 2700'

Time: 6-7 hours round trip

Rating: Class 1, moderate

Navigation: Easy


Original: Ham Barhydt, May 1977
Note: Apache Peak together with Spitler Peak by Route 1, Spitler Peak Trail, is 13 miles round trip and 3200' gain.
DRIVING ROUTE 1
Take I-10 or SR 60 east to SR 79 in Beaumont. Exit right (south) on SR 79.
Drive 6.5 miles south, where SR 79 heads left to Gilman Hot Springs. Do not exit here. Continue straight for 1.5 miles on Sanborn Avenue to Ramona Expressway. Turn left (east).
Drive 8.5 miles east and then southeast on the Ramona Expressway, which acquires the name Mountain Avenue, until it ends at SR 74. Turn left (east).
Drive 15 miles east on SR 74 to Mountain Center (junction with Idyllwild Highway - SR 243).
Continue east on SR 74 for 3.5 miles to Apple Canyon Road (paved) on the left. Turn left.
Pass the entrance to the Hurkey Creek Campground on the left and continue 2.6 miles to a large parking area on the right. Park here. This is the parking area for the Spitler Peak Trail.
HIKING ROUTE 1
The Spitler Peak Trail, 3E22, begins at a square post at the north end of the parking area (4940').
Hike 5 miles up the trail to where it meets the Pacific Crest Trail (PCT) at Apache-Spitler Saddle (6980').
Turn left (north) and follow the PCT 0.6 mile to a trail junction (7340') with a side trail to Apache Spring heading right.
Leave the PCT on the left side at this junction, following a small gully northwest by the most convenient paths until reaching a high saddle (7460') between the two summits of Apache Peak.
The register is located on the western, higher summit. Turn left at the high saddle and scramble through easy brush and rocks to the summit.
NOTE
Turning right at Apache-Spitler Saddle goes to Spitler Peak, which would add 1 mile and 500' of gain to the round trip.
---
ALTERNATE ROUTES
Via Fobes Trail and Spitler Peak:
Use the Spitler Peak guide to ascend that peak using the Fobes Trail. From Spitler Peak, return to the PCT and continue north to Apache-Spitler Saddle. Proceed to the summit of Apache Peak as in Route 1 above. Totals: 10 miles round trip for both peaks, on trail and short, brush cross-country, 3300' gain round trip in 7-9 hours. Class 1, moderate hike. Leader Rating: "I".
---
SPECIAL CONDITIONS
Wilderness permits are required under all circumstances. Permits are limited to 12 hikers. Permits may be obtained from the Idyllwild Ranger Station just off SR 243 at 54270 Pine Crest Road. There is a self-issue permit stand outside of the ranger station. Permits may be obtained in advance from:
San Jacinto Ranger District
54270 Pinecrest
P.O. Box 518
Idyllwild, CA 92549
Voice: (909) 382-2921
Fax: (951) 659-2107
Please report any corrections or changes to the Mountain Records Chair.
---