** Use at Your Own Risk **

See the Retired Peak Guides in the Archives for Microsoft Word and other versions of this peak guide.
| | | |
| --- | --- | --- |
| 28D | ("South" on USGS topos) | 7840'+ |
Location: Riverside County, about 4 miles east of Idyllwild, 112 miles from Los Angeles
Maps
| | |
| --- | --- |
| Auto Club | Riverside County, Los Angeles and Vicinity |
| Forest Service | San Bernardino National Forest |
| USGS Topos | Idyllwild 7½, San Jacinto Peak 7½ |
| Official HPS Maps | TPO file - Save to your computer then open with National Geographic TOPO! |
| | Viewable JPG file - Approximately 920K |
| | GPX file or Google Earth KML file to download to GPS units and other map software (How to use GPX and KML files) |
| | Routes as shown on CalTopo using the above files (How to use CalTopo) |

Nearby Peaks: Red Tahquitz, Antsell Rock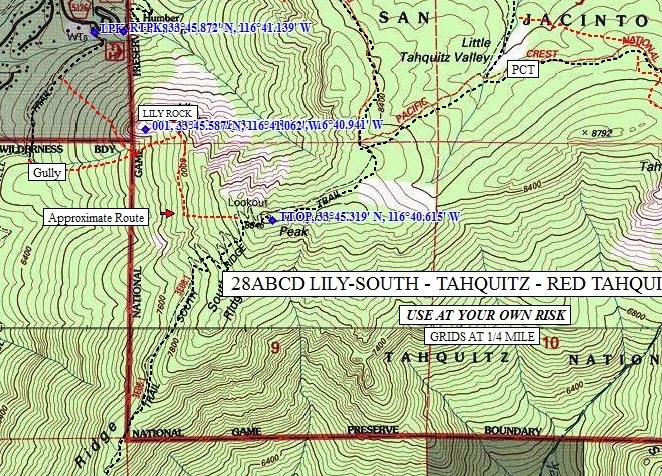 ---
Printable version of this route
ROUTE 1
Distance: 14 miles round trip on trail and cross-country

Gain: 3100' total, 2200' out plus 900' on return

Time: 7-8 hours round trip

Rating: Class 1, strenuous


Original: Paul A. Lipsohn, July 1974
DRIVING ROUTE 1
From the Chevron station in Idyllwild, go northeast on North Circle Drive 0.8 mile to South Circle Drive. Turn right.
Go 0.1 mile to Fern Valley Road. Turn left.
Go 1.8 miles following the yellow line to Humber Park. Park here. Ample parking.
HIKING ROUTE 1
The Devils Slide Trail begins at the upper right corner of the parking lot. From this trailhead (6440'), hike up the trail 2 1/2 miles to Saddle Junction (8040').
At this point there are four trail choices. Take the second trail from the right with a sign "Tahquitz Valley".
Go 0.6 mile to another junction with a sign "Tahquitz, Skunk Cabbage Meadow". Go right at this junction.
Go another 0.6 mile to another junction signed "Tahquitz Peak, Tahquitz Meadow". This is the Pacific Crest Trail (PCT) marked by a square post.
Turn left and follow it along the north side of Red Tahquitz for about 3/4 mile to a shallow saddle with a rock outcrop about 100 yards to the left (east). There may be a duck on the right of the trail here. This is the turnoff for Red Tahquitz.
Continue on the trail past elevations 7900' and 7640'+ and past the east side of Southwell Peak.
About 1/4 mile from the last saddle at 7600'-, the trail starts downhill at a small saddle with a rock outcrop on the right. At this point the slope on the right side of the trail changes from steep rocks to a gentler slope. There may be a duck here.
Turn right, leave the trail and go up the slope to the summit.
---
SPECIAL CONDITIONS
Wilderness permits are required under all circumstances. Permits are limited to 12 hikers. Permits may be obtained from the Idyllwild Ranger Station just off SR 243 at 54270 Pine Crest Road. There is a self-issue permit stand outside of the ranger station. The weekend quota for the Devil's Slide Trail is usually filled in advance during the summer months. Permits for the South Ridge Trail are much easier to obtain. Permits may be obtained in advance from:
San Jacinto Ranger District
54270 Pinecrest
P.O. Box 518
Idyllwild, CA 92549
Voice: (909) 382-2921
Fax: (951) 659-2107
HISTORICAL NOTE
The HPS calls this peak Southwell Peak for Jesse M. Southwell who was the ranger at Tahquitz Peak Lookout from 1946 to 1967. When the Forest Service proposed this name, the U.S. Board on Geographic Names turned it down since Jesse was still alive. The name may formally remain South Peak.
The route from Red Tahquitz to Southwell Peak, Antsell Rock, and Apache Peak has been made rather easy with the construction of the PCT. Before this trail existed, the HPS called this route the Sam Fink Trail. Early HPS member R. Sam Fink marked the route with metal trail markers along the spine of the ridge. It involved much class 2 and some class 3 climbing.
Please report any corrections or changes to the Mountain Records Chair.
---