** Use at Your Own Risk **

See the Retired Peak Guides in the Archives for Microsoft Word and other versions of this peak guide.

Location: San Bernardino County, about 7 miles northeast of Yucaipa, 81 miles from Los Angeles
Maps

Nearby Peaks: Birch Mountain, Wilshire Peak, Wilshire Mountain, Little San Gorgonio Peak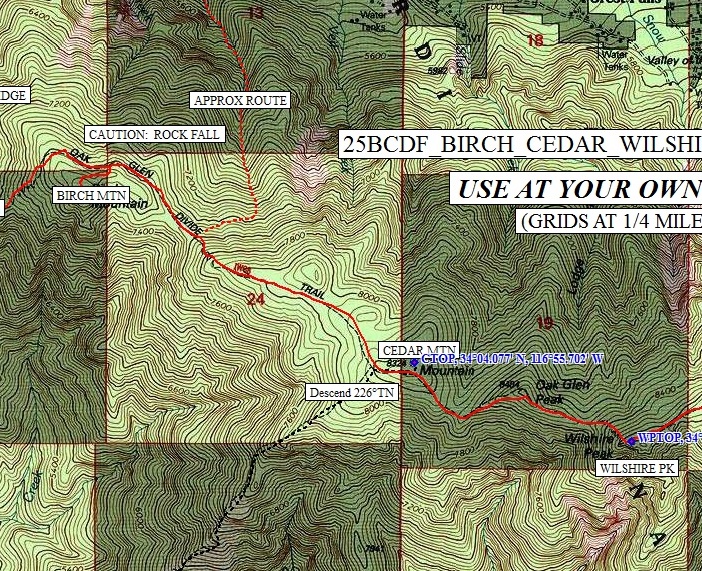 ---
Printable version of this route
ROUTE 1
Yucaipa Ridge Traverse (5 peaks) from east to west
From Wilshire Peak
(USFS Adventure Pass may be required)
Distance: 1.0 mile one way on trail

Gain: 400'

Time: 1/2 hour one way

Rating: Class 1, very strenuous when combined with other peaks in the area

Navigation: Easy


Original: Warren E. von Pertz
DRIVING ROUTE 1
See the driving instructions for Little San Gorgonio Peak. This route assumes that you are hiking each peak along this section of Yucaipa Ridge (5 peaks).
HIKING ROUTE 1
From Wilshire Peak, hike west down into a saddle and them up to the summit of Oak Glen Peak. (This peak is not on the HPS list. There is usually a peak register here.)
Continue west down into another saddle and then up to the summit of Cedar Mountain.
---
SPECIAL CONDITIONS
The route continues west down Yucaipa Ridge past Birch Mountain to the Allen-Birch saddle. This route crosses private property. You must obtain permission several days in advance to use this exit route.
The USGS topo shows a trail starting at Pilgrim Pines Camp in Oak Glen and going up to a point near Cedar Mountain. This trail crosses private property and must be used only with permission. Call Pilgrim Pines at (562) 335-7697 for permission.
NOTES
This peak and the four nearby peaks are normally done together as a car shuttle trip. It is possible to descend the ridge from the saddle just east of Birch Mountain to the town of Forest Falls. See the Birch Mountain guide for additional information.
Please report any corrections or changes to the Mountain Records Chair.
---