** Use at Your Own Risk **

See the Retired Peak Guides in the Archives for Microsoft Word and other versions of this peak guide.

Location: San Bernardino County, about 9 miles northeast of Yucaipa, 89 miles from Los Angeles
Maps
| | |
| --- | --- |
| Auto Club | Los Angeles and Vicinity, San Bernardino Mountain Area |
| Forest Service | San Bernardino National Forest |
| USGS Topos | Forest Falls 7½, Big Bear Lake 7½ |
| Official HPS Maps | TPO file - Save to your computer then open with National Geographic TOPO! |
| | Viewable JPG file - Approximately 1.6 megs |
| | GPX file or Google Earth KML file to download to GPS units and other map software (How to use GPX and KML files) |
| | Routes as shown on CalTopo using the above files (How to use CalTopo) |

Nearby Peaks: San Bernardino East Peak, Anderson Peak, Shields Peak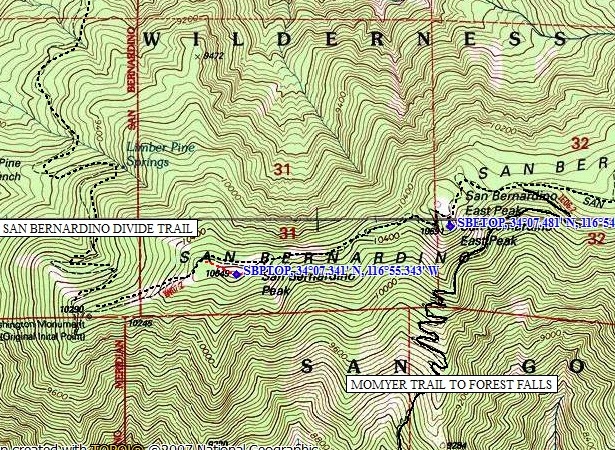 ---
Printable version of this route
ROUTE 1
(USFS Adventure Pass may be required)
Distance: 18 miles round trip on trail

Gain: 4900'

Time: 8 hours round trip

Rating: Class 1, strenuous


Original: Warren E. von Pertz and Al Campbell, February 1973
DRIVING ROUTE 1
Take I-10 east past San Bernardino to the Orange Street exit (SR 38).
Go one block east, then go north (left) 0.5 mile to Lugonia Avenue. Turn right on SR 38 (east).
Continue east on SR 38 about 20 miles to Angelus Oaks.
Here, turn right (east) at the entrance road to the fire station (signed). Turn left immediately and go 0.1 mile to a fork signed "Trail". Turn right, then immediately half right again.
Continue 0.3 mile to the trailhead. Park here.
HIKING ROUTE 1
From the parking area (5950'), hike up 1W07, past the Washington Monument, to the summit.
---
Printable version of this route
ROUTE 2
From San Bernardino East Peak
(USFS Adventure Pass may be required)
Distance: 1 mile one way on trail

Gain: 200'

Time: 1/2 hour one way

Rating: Class 1


Original: Warren E. von Pertz and Al Campbell, February 1973
DRIVING ROUTE 2
HIKING ROUTE 2
From the summit of San Bernardino East Peak, return to the trail just north of the summit.
Follow the trail west down 300' and 3/4 mile into a saddle at 10,400'+.
Continue as the trail climbs 200' to bypass the summit.
Just past a short switchback, a use trail goes back to the southeast. Take it to the summit.
---
NOTE
The most popular route is to climb San Bernardino East Peak via the Forsee Creek Trail and continue on to San Bernardino Peak.
HISTORICAL NOTE
Part way up the San Bernardino Peak Trail is the Washington Monument. This is a large rock cairn and a metal plaque. This is named for Colonel Herbert Washington who was in charge of the initial USGS survey in this area. This point was the initial point on that survey on November 7, 1852.
The peak was named long before Colonel Washington made his famous survey. The name "San Bernardino" dates from May 20, 1810, the feast day of Saint Bernardino of Siena, a Franciscan preacher of the 15th century, when Padres from the Mission San Gabriel set up a temporary chapel in the valley and named the location "San Bernardino". Just when the name was transferred to the peak is not known.
SPECIAL CONDITIONS
Wilderness permits are required for all routes. They are issued at Mill Creek Ranger Station, 9 miles from Redlands on SR 38. Day use permits are self-issue on the day of the hike or by mail. Overnight permits must be acquired in person or by mail.

Mill Creek Ranger Station
Route 1, Box 264
Mentone, CA 92359
(909) 794-1123

Please report any corrections or changes to the Mountain Records Chair.
---