** Use at Your Own Risk **

See the Retired Peak Guides in the Archives for Microsoft Word and other versions of this peak guide.

Location: San Bernardino County, about 9 miles northwest of Morongo Valley, 102 miles from Los Angeles
Maps
| | |
| --- | --- |
| Auto Club | Los Angeles and Vicinity, San Bernardino Mountain Area |
| Forest Service | San Bernardino National Forest |
| USGS Topo | Onyx Peak 7½ |
| Official HPS Maps | TPO file - Save to your computer then open with National Geographic TOPO! |
| | Viewable JPG file - Approximately 985K |
| | GPX file or Google Earth KML file to download to GPS units and other map software (How to use GPX and KML files) |
| | Routes as shown on CalTopo using the above files (How to use CalTopo) |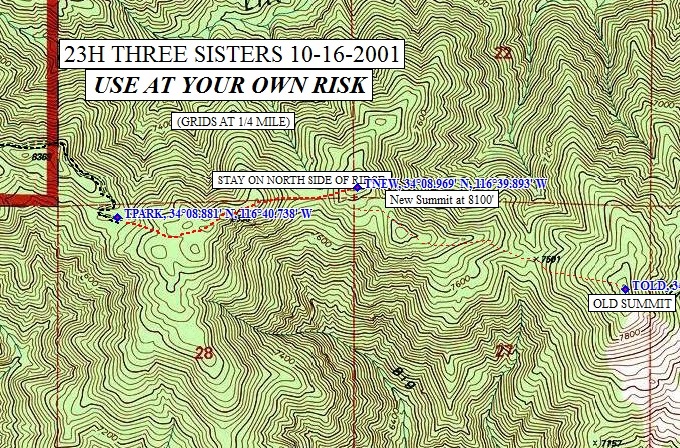 ---
Printable version of this route
ROUTE 1
(USFS Adventure Pass may be required)
Distance: 7 miles round trip on road and cross-country

Gain: 1800' total, 900' out plus 900' on return

Time: 3-4 hours round trip

Rating: Class 1, moderate

Navigation: Moderate

Leader Rating: "I", normal conditions


Original: Paul A. Lipsohn, May 1973
DRIVING ROUTE 1
Take I-10 east past San Bernardino to the Orange Street exit (SR 38).
Go one block east, then go north (left) 0.5 mile to Lugonia Avenue. Turn right on SR 38 (east).
Continue east on SR 38 about 33 miles to 1N02, the road to Heart Bar Campground, on the right. Turn right. Note your odometer and go as follows:
At 1.2 miles, fork. Go left (east) on 1N02 at sign "Coon Creek".
At 1.5 miles, fork. Go left (east) on 1N02.
At 5.4 miles, locked gate. Park here.
HIKING ROUTE 1
From the parking area (8060'), go left around the gate through a break in the fence and hike east up the dirt road, past a cabin. After about 0.7 mile the road forks.
Take the right fork (shown as a jeep road on the topo) and follow it around the north side of elevation 8369' into a saddle. Continue to the end of the road at about 8250'.
Then continue cross-country to elevation 8350'. From here go east down the ridge, keeping generally on the north side to avoid brush, to the saddle at 7880'+, between elevation 8350' and elevation 8100'.
Hike up to the HPS summit on elevation 8100'.
---
NOTES
In 1969, elevation 7632' was designated as the HPS summit, and the hiking route was via Big Morongo Canyon. Though not the high point of the ridge, that summit did have a fine view out over the desert to the east. Problems with private property owners in Big Morongo Canyon led the HPS in 1983 to designate elevation 8080'+, a high point along the ridge, as the official summit. Private property postings in 2001 caused the HPS summit to be moved about 0.8 mile to the west to elevation 8100'.
Please report any corrections or changes to the Mountain Records Chair.
---