** Use at Your Own Risk **

See the Retired Peak Guides in the Archives for Microsoft Word and other versions of this peak guide.

Location: Los Angeles County, about 16 miles north of Glendora, 53 miles from Los Angeles
Maps
| | |
| --- | --- |
| Auto Club | Los Angeles and Vicinity |
| Forest Service | Angeles National Forest |
| USGS Topos | Crystal Lake 7½ |
| Official HPS Maps | TPO file - Save to your computer then open with National Geographic TOPO! |
| | Viewable JPG file - Approximately 1.5 megs |
| | GPX file or Google Earth KML file to download to GPS units and other map software (How to use GPX and KML files) |
| | Routes as shown on CalTopo using the above files (How to use CalTopo) |

Nearby Peaks: Pallett Mountain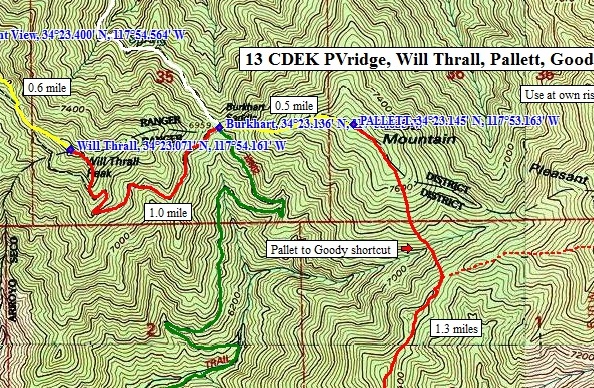 ---
Printable version of this route
ROUTE 1
(USFS Adventure Pass may be required)
Distance: 5 miles round trip on trail

Gain: 1500'

Time: 2 1/2 hours round trip

Rating: Class 1, easy


Original: Dick Worsfold and Al Campbell, May 1969
DRIVING ROUTE 1
From the intersection of I-210 and Angeles Crest Highway (SR 2), drive north on Angeles Crest Highway 9.5 miles to Angeles Forest Highway. Keep straight.
Continue about 4.5 miles to the junction with the Mount Wilson Road at the Red Box Ranger Station. Keep straight.
Continue 24 miles to a large parking area on the left (north). This is 0.7 mile east of a large shed on the right. Park here.
HIKING ROUTE 1
From the east end of the parking area (6680'+), follow the Pacific Crest Trail (PCT) as it switchbacks up the southwest ridge of Williamson.
After about a mile, at the top of the ridge, the PCT goes southeast to Islip Saddle. At this point, turn northeast and follow the use trail to the crest of the ridge.
Then continue leftward (northwest) and follow the use trail along the ridge about 1/4 mile to bump 8244' where the register can is located.
---
Printable version of this route
ROUTE 2
(USFS Adventure Pass may be required)
Distance: 5 miles round trip on trail

Gain: 1600'

Time: 2 1/2 hours round trip

Rating: Class 1, easy


Original: Dick Worsfold and Al Campbell, May 1969
DRIVING ROUTE 2
See Route 1.
Continue 1 1/2 miles to Islip Saddle. Park in the large parking lot on the left.
HIKING ROUTE 2
From the west end of the parking lot (6680'), hike north-west up the PCT.
Follow it to the top of the ridge where it meets Route 1 at a fork.
Turn right (northeast) and follow the use trail to the summit as described in Route 1.
---
NOTE
The summit is the one given on the topo as 8244'. Another summit 1/4 mile to the southeast is about 30' lower (8214'). The register has been moved back and forth repeatedly. Please keep it on the 8244' summit. While the summit of 8214' is what shows as Mt Williamson on the USGS map, register cans at this location do not last long while those on the higher, but slightly more distant bump last.
HISTORICAL NOTES
The peak was named for Lieutenant Robert Stockton Williamson (1824-1882), U.S. Army topographical engineer, who made a reconnaissance of the north side of the San Gabriel Mountains for the Pacific Railroad Survey in 1853.
NATURAL HISTORY NOTES
The San Andreas Rift Zone can be seen from the summit.
Please report any corrections or changes to the Mountain Records Chair.
---