** Use at Your Own Risk **
| | | |
| --- | --- | --- |
| 07T | Beartrap Bluff | 6160+' |
Location: Ventura County, about 20 miles north of Ojai, 125 miles from Los Angeles
Maps
| | |
| --- | --- |
| Auto Club | Ventura County |
| Forest Service | Los Padres National Forest: Mt Pinos, Ojai and Santa Barbara Ranger Districts |
| USGS Topo | Reyes Peak 7½ |
| Official HPS Maps | TPO file - Save to your computer then open with National Geographic TOPO! |
| | Viewable JPG file - Approximately 710K |
| | GPX file or Google Earth KML file to download to GPS units and other map software (How to use GPX and KML files) |
| | Routes as shown on CalTopo using the above files (How to use CalTopo) |

Nearby Peaks: Reyes Peak, Haddock Mountain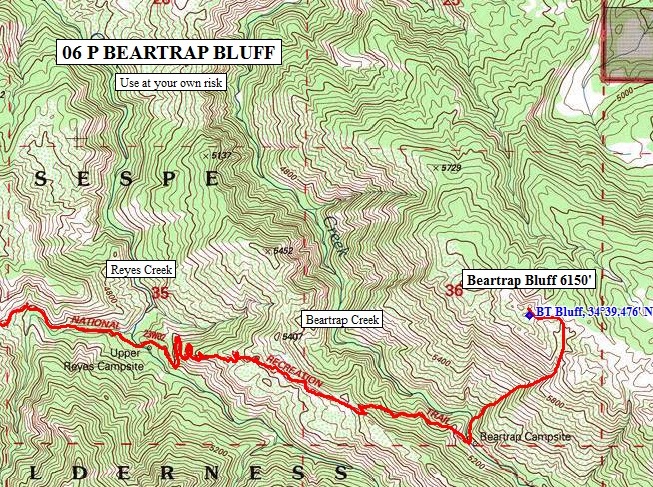 ---
Printable version of this route
ROUTE 1
(USFS Adventure Pass may be required)
Distance: 12 miles round trip on trail and cross-country

Gain: 3800' total, 3000' out plus 800' on return

Time: 7-8 hours round trip

Rating: Class 2, strenuous

Leader Rating: "I", normal conditions


Original: Peter & Ignacia Doggett, January 2014
DRIVING ROUTE 1
Take I-5 north from Los Angeles.
Exit at the Frazier Mountain Park Road.
Reset your odometer at the stop sign at the end of the off ramp.
At the stop sign, turn left and drive west for 7.1 miles to the Lockwood Valley Road (LVR).
Turn left, reset odometer and drive on the LVR for another 23.6 miles to 7N11.
Reset odometer, turn left and drive about 1.5 miles to Camp Scheideck.
At about 1.6 miles is the Reyes Creek Bar & Grill.
Drive through the Reyes Creek Campground to the Gene Marshall/Piedra Blanca trailhead, 2.1 miles from the LVR. Park here.
HIKING ROUTE 1
From the parking area (3950'), the trail drops in elevation, it then regains and undulates while it continues to gain.
The Upper Reyes Creek campground is 3.0 miles up the trail. As you exit the campsite, you will pass a unique and huge oak tree.
About 4.0 miles from the trailhead, the trail will cross over a ridge (5400').
About 4.6 miles from the trail head, the trail will cross Beartrap Creek (5000').
Cross the creek, leave the trail on your left and walk along the right bank for about 0.1 miles to a major gully on your right.
Leave the creek and climb up this steep, rocky gully to a plateau (5900').
Once on the plateau, go left and proceed to a massive summit block.
---
NOTES
The east end of Beartrap Campsite is 0.1 mile to the east of where one crosses Beartrap Creek. On one's return, it is worth walking the additonal 0.1 mile to visit this end of the campsite and its beautiful majestic trees.
Please report any corrections or changes to the Mountain Records Chair.
---