** Use at Your Own Risk **

See the Retired Peak Guides in the Archives for Microsoft Word and other versions of this peak guide.

Location: Santa Barbara County, about 9 miles south of Cuyama, 140 miles from Los Angeles
Maps
| | |
| --- | --- |
| Auto Club | Santa Barbara County |
| Forest Service | Los Padres National Forest: Mt Pinos, Ojai and Santa Barbara Ranger Districts |
| USGS Topo | Fox Mountain 7½ |
| Official HPS Maps | TPO file - Save to your computer then open with National Geographic TOPO! |
| | Viewable JPG file - Approximately 530K |
| | GPX file or Google Earth KML file to download to GPS units and other map software (How to use GPX and KML files) |
| | Routes as shown on CalTopo using the above files (How to use CalTopo) |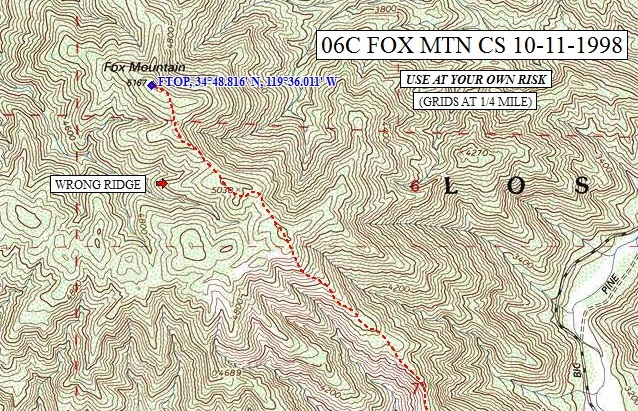 ---
Printable version of this route
ROUTE 1
(USFS Adventure Pass may be required)
Distance: 5 miles round trip cross-country

Gain: 2300' total, 2100' out plus 200' on return

Time: 4 hours round trip

Rating: Class 1, moderate

Navigation: Moderate

Leader Rating: "I", normal conditions


Original: Howland Bailey, 1968
DRIVING ROUTE 1
Drive north on I-5 past the Grapevine to the SR 166 off-ramp. Turn left (west).
Head west 36.5 miles, passing through Maricopa, to the junction with SR 33 south. This junction may be reached by a slower route via SR 33 north from Ojai. (There is a junction with SR 33 north in Maricopa that you will pass in Maricopa.) Turn left (south).
Go 2.7 miles to Foothill Road on the right. Turn right (west).
Go 2.1 miles, crossing the Cuyama River, to the Santa Barbara Canyon Road (9N11) on the left. Turn left, note your odometer, and go as follows:
At 3.1 miles, just past a ranch house, junction with a dirt road on the left and a paved road on the right with a sign "Santa Barbara Canyon Road". Turn right.
At 7.5 miles, fork with Santa Barbara Ranch visible ahead. Go right and cross a creek. The pavement ends.
At 9.5 miles, a cattle guard and gate. Gate may be closed. Check with Mt. Pinos Ranger district, Chuchupate station, for status.
At 10.0 miles, an obscure dirt road appears on the right. Turn right (west) on this road a few yards to a turn-around, suitable for overnight car camps. Park here.
HIKING ROUTE 1
From the parking area (3250'), hike across the streambed and head west-northwest directly up the ridge. An occasionally obscure use trail leads in a generally northwest direction up the ridge and over bump 5000'. The use trail is usually on the south side of the ridge.
From this point the trail runs northwest past a shallow saddle, across elevation 5038', down into another saddle, and up another bump (5080'+).
From here hike cross-country toward the left (west) summit, which is the peak.
If the Cuyama River is impassable, return to the junction of SR 166 and SR 33 and go as follows:
Go west on SR 166 for 4.7 miles to a bridge over the Cuyama River, and an immediate junction past the bridge, on your left. This is Kirschenmann Road (paved). Turn left.
Continue 2.4 miles to the end of Kirschenmann at Foothill Road. Turn left (east).
Drive 3 miles to Santa Barbara Canyon Road on the right (south). Turn right and continue as above.
---
Please report any corrections or changes to the Mountain Records Chair.
---