** Use at Your Own Risk **

See the Retired Peak Guides in the Archives for Microsoft Word and other versions of this peak guide.

Location: Kern County, about 15 miles west of Frazier Park, 90 miles from Los Angeles
Maps
| | |
| --- | --- |
| Auto Club | Kern County |
| Forest Service | Los Padres National Forest: Mt Pinos, Ojai and Santa Barbara Ranger Districts |
| USGS Topos | Eagle Rest 7½, Sawmill Mountain 7½ |
| Official HPS Maps | TPO file - Save to your computer then open with National Geographic TOPO! |
| | Viewable PDF file - Approximately 12 megs |
| | GPX file or Google Earth KML file to download to GPS units and other map software (How to use GPX and KML files) |
| | Routes as shown on CalTopo using the above files (How to use CalTopo) |

Nearby Peaks: Sawmill Mountain, Mount Pinos, Cerro Noroeste
---
Printable version of this route
ROUTE 1
(USFS Adventure Pass may be required)
Distance: 2 1/2 miles round trip on trail and cross-country from Sawmill Mountain

Gain: 700' total, 300' out plus 400' on return

Time: 2 hours round trip

Rating: Class 1, moderate

Navigation: Easy


Original: John Backus, July 1982
DRIVING ROUTE 1
Drive north on I-5 to the Frazier Park exit. Turn left (west). Note your odometer and go as follows:
At 7.2 miles, Lake of the Woods. Here, the Lockwood Valley Road forks left and the Cuddy Valley Road goes straight. Keep straight.
At 5.3 miles, junction with Mount Pinos Road (straight) and the Mil Potrero Road (right). Go straight on the Mount Pinos Road.
At 13.9 miles, a large paved parking area and a road with a gate continuing farther on the left side. If the gate is open, continue 1 1/2 miles farther to the summit of Mount Pinos. If the gate is locked, park here and hike up to the summit of Mount Pinos.
HIKING ROUTE 1
From the summit of Mount Pinos, take the ridge trail 21W03 down into the saddle to the west.
From the saddle, the trail goes up the east side of Sawmill and along the south side of the summit ridge. Where the trail begins to go downhill is the turnoff for Sawmill Mountain.
Continue west on the ridge trail 21W03 to a junction in a shallow saddle 1/4 mile farther, where there is a sign 'Sheep Camp 1/2'.
Keep to the right and continue to a saddle 1/4 mile farther; then ascend due west to the top of a low ridge, turn left (south) and follow the ridge to the summit, which is the southern bump.
---
Printable version of this route
ROUTE 2
(USFS Adventure Pass may be required)
Distance: 5 miles round trip on trail and cross-country from Cerro Noroeste

Gain: 1700' total, 1000' out plus 700' on return

Time: 2-3 hours round trip

Rating: Class 1, moderate

Navigation: Easy


Original: John Backus, July 1982
DRIVING ROUTE 2
Go north on I-5 to the Frazier Park exit.
Go west 7.2 miles past Frazier Park and on to Lake of the Woods.
Keep straight here and go 5.3 miles farther to the junction with Mil Potrero Road. Turn right. Note odometer and go as follows:
At 8.3 miles, highway junction and a ranger station at Apache Saddle. Turn left.
At 16 miles, a circle road at the campground on the summit. Park at the south end of the circle near a restroom.
HIKING ROUTE 2
From the parking area (8280'), hike back down the road to trail 21W03 on the left side. (It may be possible to park here.)
Take the trail east down to a saddle marked Puerta Del Suelo (7618') on the topo.
Continue southeast up the ridge to its high point at 8500'+.
Turn south and follow the ridge up to the summit.
---
ALTERNATE ROUTES
This peak can be climbed from the Three Falls Boy Scout Camp via the Lockwood Valley Trail.
Mount Pinos, Sawmill Mountain, Grouse Mountain and Cerro Noroeste (Mt. Abel) are often combined as an out and back trip from either end point. They are also hiked via car shuttle trip from Mount Pinos to Cerro Noroeste or the reverse (25 miles driving between trailheads in each direction).
---
HISTORY NOTES
The First 100th Peak, June 1946. One of the most famous photographs in the Hundred Peaks Section's archives shows Jack Bascom congratulating Weldon Heald on becoming the first person to ascend one hundred Southern California mountain summits of more than 5000' elevation.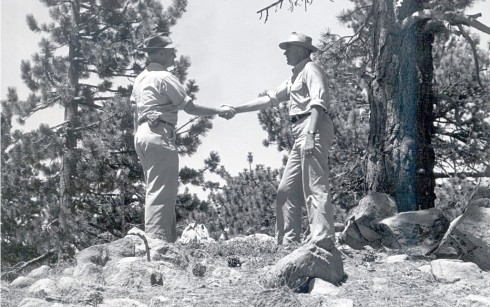 Jack Bascom(l) shaking hands with Weldon Heald(r) on the occasion of Heald's 100th peak, the summit of Grouse Mt., June 30, 1946. This image records the first Hundred Peaks accomplishment by HPS founder Heald. Bascom would go on to become HPS Emblem Holder #3, behind Heald and R. S. "Sam" Fink. -Photo by Weldon Heald, Angeles Chapter archives.

The great event occurred on Grouse Mountain. Of this first 100 Peaks celebration, Jack Bascom recalls: "It was a beautiful June day when Weldon Heald and I hiked to Grouse Mtn. He was excited over the prospects of finishing his 100 Peaks. Although I had been with him in climbing a dozen other peaks on his list, I hadn't as yet become afflicted with the 100 Peaks 'bug.' In 1946 there was no paved road to Mt. Pinos from Cuddy Valley and it was necessary to go on a one-way road from Lockwood Valley. We left the car at the highest point on the road and in less than an hour of cross-country travel reached the top of Mt. Pinos. From there, we followed the present trail over Sawmill to Grouse. We had no champagne (its use in HPS celebrations hadn't been discovered), and to record my congratulations, Weldon set up his camera for a picture. I remember his enthusiasm and excitement, while my thoughts were, 'Poor fellow, he must think that someday others will be doing this'. I always enjoyed my trips with Weldon, for besides his fine personality, he was one with many new ideas and he had an abundance of mountain knowledge."
Grouse Mountain and Sawmill Mountain are in the Chumash Wilderness. Permits are not required.
Please report any corrections or changes to the Mountain Records Chair.
---