** Use at Your Own Risk **
Location: Kern County, about 12 miles west-northwest of Inyokern, 159 miles from Los Angeles
Maps
| | |
| --- | --- |
| Auto Club | Kern County |
| Forest Service | Sequoia National Forest |
| USGS Topos | Owens Peak 7½, Walker Pass 7½ |
| Official HPS Maps | TPO file - Save to your computer then open with National Geographic TOPO! |
| | Viewable PDF file - Approximately 10 megs |
| | GPX file or Google Earth KML file to download to GPS units and other map software (How to use GPX and KML files) |
| | Routes as shown on CalTopo using the above files (How to use CalTopo) |

Nearby Peaks: Morris Peak, Mount Jenkins, Five Fingers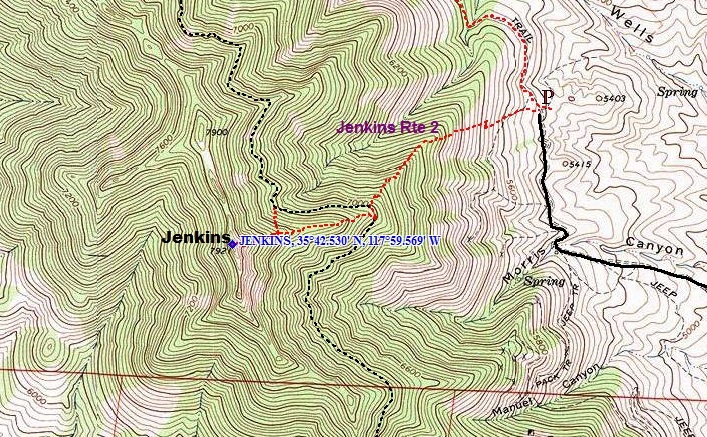 ---
Printable version of this route
ROUTE 1
Distance: 7 miles round trip on road and use trail

Gain: 3200' total, 3100' out plus 100' on return

Time: 6 hours round trip

Rating: Class 2, moderate

Navigation: Intermediate


Original: Paul A. Lipsohn, May 1974
DRIVING ROUTE 1
Take SR 14 to Mojave.
Continue north on SR 14 to the intersection with SR 178 (Freeman Junction).
Continue north on SR 14 another 5.3 miles to a dirt road on the left. Turn left. This is 0.4 mile past Indian Wells, with a lodge and brewery. SR 14 is under construction. It may be necessary to continue farther north and turn around, returning to the dirt road. Note your odometer and go as follows:
At 2.6 miles, Powers Well on the left. Keep straight. This is a good camping spot.
At 2.7 miles, fork. Turn right.
At 3.2 miles, fork. Keep left. This is the turnoff for Five Fingers.
At 3.8 miles, fork. Keep left.
At 3.9 miles, fork. Keep left.
At 5.2 miles, fork. Keep right.
At 5.8 miles, fork. Go right. (Left goes to the Morris Peak parking area.)
At 6.5 miles, fork. Go right.
At 7.2 miles, a small radio site on the right.
At 7.7 miles, fork with a road on the right going out to a camping spot on an outcrop. Park here. This at the barricaded Wilderness boundary.
Note: High clearance may be required to proceed beyond the 5.2 mile point.
HIKING ROUTE 1
From the parking area (5440'), hike past the barricade along the old road, which eventually becomes a trail.
Continue on this trail up the canyon to a small clearing at about 6100'. The canyon forks here.
Follow the excellent use trail up the right canyon to about 7000' where the trail becomes quite steep, then starts through a field of dark boulders.
Follow ducks up through these boulders. (If you come to a field of white boulders, you are too far to the right.)
Continue on the use trail up toward the summit passing a steep rock friction slope at about 7800' on the way.
Continue on a good but steep trail to the summit.
---
NOTE
Owens Peak, Morris Peak, Mount Jenkins, Russell Peak, Backus Peak, and Five Fingers (Aquilla) are all in the Owens Peak Wilderness. At the date of this guide no permit is required.
Learn more about Owens Peak.
Please report any corrections or changes to the Mountain Records Chair.
---