** Use at Your Own Risk **

See the Retired Peak Guides in the Archives for Microsoft Word and other versions of this peak guide.

Location: San Diego County, about 17 miles northeast of Escondido, 120 miles from Los Angeles
Maps
| | |
| --- | --- |
| Auto Club | San Diego County |
| Forest Service | Cleveland National Forest |
| USGS Topo | Boucher Hill 7½ |
| Official HPS Maps | TPO file - Save to your computer then open with National Geographic TOPO! |
| | Viewable JPG file - Approximately 570K |
| | GPX file or Google Earth KML file to download to GPS units and other map software (How to use GPX and KML files) |
| | Routes as shown on CalTopo using the above files (How to use CalTopo) |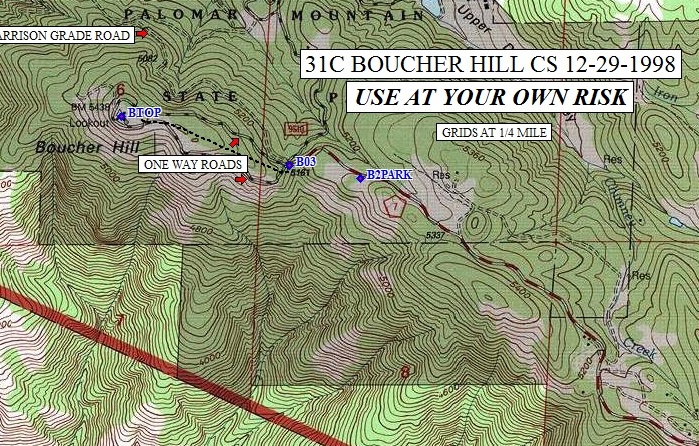 ---
Printable version of this route
ROUTE 1
(Parking Fee required)
Distance: None

Gain: None

Time: None

Rating: Drive-up


Original: Al Campbell, July 1973
DRIVING ROUTE 1
Take I-15 south to Temecula.
Continue south on I-15 to SR 76.
Go east on SR 76 to its junction with S6 at the south end of Pauma Valley. Go left (east). Note your odometer and go as follows:
At 5.5 miles, fork with SR 76 straight and S6 left (north). Turn left on S6.
At 12.0 miles, a junction with S7 at Crestline. Turn left (west) on S7.
At 15 miles, Palomar Mountain State Park entrance. An entrance fee is charged at this point.
Continue to the second left turn, where four roads branch off. Straight ahead is the Nate Harrison Grade Road, take the paved road to the left of it.
Drive 1/2 mile to the summit, where there is a radio installation.
NOTE
The junction of SR 76 and S6 can also be reached from Warner Springs or from Julian. From Warner Springs drive south on SR 79 for 7.6 miles and then turn northwest on SR 76 to the junction of S6, then proceed as above. Or, from Julian drive north on SR 79 for about 14 miles to SR 76. Turn left and go to the junction of SR 76 and S6, then proceed as shown above.
---
Printable version of this route
ROUTE 2
(Parking Fee required)
Distance: 3 miles round trip on trail

Gain: 600'

Time: 3/4 hour round trip

Rating: Class 1, easy


Original: Al Campbell, July 1973
DRIVING ROUTE 2
See the driving instructions for Route 1. From the Park entrance, follow the signs to Cedar Grove Campground. Parking is limited.
HIKING ROUTE 2
The Adams Trail starts on the far side of a small meadow across from campsite No. 9 (4840'). Follow this trail for 1/2 mile to the Nate Harrison Grade Road.
Cross the road to the Boucher Trail which starts at the junction of the two one-way roads. A signpost reads 1 mile to the lookout.
Follow the trail to a small flat area. This is the site of Bougher's 2-story log house, removed in 1963. Continue on the trail to the summit.
---
HISTORICAL NOTE
The man who lived here from the 1880's to the 1920's spelled his name Bougher, not Boucher.
SPECIAL CONDITIONS
The summit is located in the State Park. There is no entrance fee if you hike in but there is a fee for day use and for overnight camping. Due to budget restraints, the park is sometimes closed in the winter and entry is forbidden.
Please report any corrections or changes to the Mountain Records Chair.
---