** Use at Your Own Risk **

See the Retired Peak Guides in the Archives for Microsoft Word and other versions of this peak guide.

Location: Riverside County, about 12 miles northeast of Borrego Springs, 182 miles from Los Angeles
Maps
| | |
| --- | --- |
| Auto Club | Riverside County, San Diego County |
| USGS Topos | Rabbit Peak 7½, Fonts Point 7½ |
| Official HPS Maps | TPO file - Save to your computer then open with National Geographic TOPO! |
| | Viewable PDF file - Approximately 5 megs |
| | GPX file or Google Earth KML file to download to GPS units and other map software (How to use GPX and KML files) |
| | Routes as shown on CalTopo using the above files (How to use CalTopo) |

Nearby Peaks: Rabbit Peak #2, Rosa Point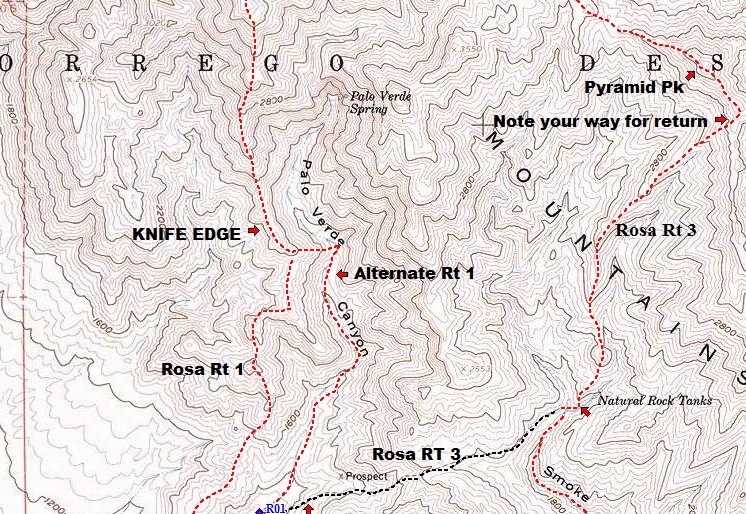 ---
Printable version of this route
ROUTE 1
Distance: 13.5 miles round trip on use trail and cross-country

Gain: 5100' total, 4900' out plus 200' on return

Time: 8-10 hours round trip

Rating: Class 1, very strenuous

Navigation: Moderate

Leader Rating: "I", normal conditions


Original: Paul A. Lipsohn, November 1973
DRIVING ROUTE 1
Drive east on I-10 to the 86S expressway in Indio.
Drive south toward El Centro on SR 86S Expressway for about 35.5 miles to Salton City.
Turn west on the Borrego-Salton Seaway (S22).
Continue 14.8 miles to a parking area on the right (just past the 32 mile marker) and a dirt road on the left (south). Park in this area on either side of the road. The road on the south of S22 is signed, "Thimble Trail". This is a good car camping spot.
It is also possible to reach the trailhead by driving east on S22 from Christmas Circle in Borrego Springs for about 13.1 miles.
HIKING ROUTE 1
From the parking area (980'), the route is evident. It is the ridge coming south down from Villager Peak.
Hike north across the desert on a good use trail, just past the east end of "Lute" ridge (see topo map, Section 12), to the prominent ridge on the left (west) side of Rattlesnake Canyon.
The use trail switchbacks up the toe of the ridge and then up the steady slope of the ridge over several false summits and up to the summit.
On the descent, take care at 4400' not to follow the southeast ridge down into Rattlesnake Canyon. Continue on the south trending ridge.
---
NOTES
Villager Peak is often combined with Rabbit Peak as a two-day dry backpack. There is no water on the route. Most hikers will camp near or on the summit of Villager Peak.
It is also possible to combine Villager Peak and Rosa Point as a loop trip using the saddle at the top of Rattlesnake Canyon to traverse from one to the other.
The parking area is signed "Thimble Trail". Opposite this sign, on the north side of S22, is a sign reading "Pack it in / Pack it out". Anza-Borrego Desert State Park charges a fee for dirt road use but not along this stretch of highway if you park or car camp between the paved highway and the "Fee Area" sign 100 yards south of the highway. Fires are permitted in a metal container; ground fires are not permitted. Do not place the metal container near any vegetation. Dogs are not allowed in the Anza-Borrego Desert State Park.
Please report any corrections or changes to the Mountain Records Chair.
---