** Use at Your Own Risk **

See the Retired Peak Guides in the Archives for Microsoft Word and other versions of this peak guide.

Location: San Bernardino County, about 5 miles south-southeast of Yucca Valley, 130 miles from Los Angeles
Maps
| | |
| --- | --- |
| Auto Club | Riverside County |
| Park Service | Joshua Tree National Park |
| USGS Topo | Yucca Valley South 7½ |
| Official HPS Maps | TPO file - Save to your computer then open with National Geographic TOPO! |
| | Viewable JPG file - Approximately 875K |
| | GPX file or Google Earth KML file to download to GPS units and other map software (How to use GPX and KML files) |
| | Routes as shown on CalTopo using the above files (How to use CalTopo) |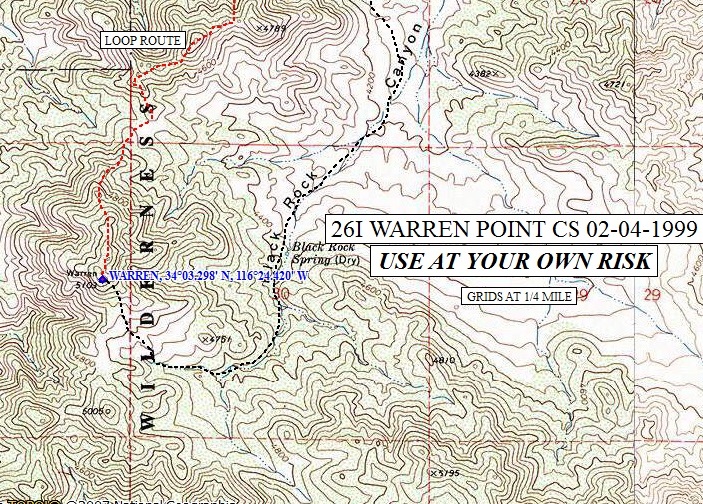 ---
Printable version of this route
ROUTE 1
Distance: 4 miles round trip on trail and cross-country

Gain: 1000'

Time: 2 1/2 hours round trip

Rating: Class 1, easy

Navigation: Moderate

Route: National Park Service Trail


Original: Ham Barhydt, July 1982
DRIVING ROUTE 1
Take I-10 east past Banning to the intersection with SR 62.
Go north on SR 62 to Joshua Lane in Yucca Valley. This is also the intersection with SR 247, Old Woman Springs Road.
Turn right on Joshua Lane.
Drive south, then east, then south again on Joshua Lane for 5.3 miles to Black Rock Campground. Park at the Visitor Center.
HIKING ROUTE 1
From the west end of the Visitor Center (4160'), hike south on the narrow paved road.
Continue to its end to a trail by site 30 with a sign that reads, "Access to Warren Point".
Continue south on the trail to a fork just before a water tank.
Go left for 200', where a trail goes right, with a sign that reads, "Westside Loop".
Follow this trail about ¼ mile to a junction. Turn left at a sign that reads, "Warren Point".
Follow this trail another ¼ mile to the main Black Rock Canyon wash (signed).
Turn right and follow the wash as it heads southwest and then west around bump 4751' to the saddle south of the peak. Follow any signposts with arrow and "WP" (Warren Point).
Warren Point becomes visible to the northwest. It is the only visible nearby summit that is mostly rocky.
Exit the wash on the slopes to the right and climb to the ridge that heads northerly to the summit of Warren Point.
---
ALTERNATE ROUTES
For a more interesting, shorter, but navigationally trickier route follow this alternative. Follow a connecting wash westward near the northern edge of Section 30 to the 4400' contour, then climb the obvious ridge south-southwest to join another ridge, then follow this ridge west-southwest for about 2000', then 500' south to the summit.
Almost any route from any direction goes. A fine pathfinder option starts at "Horse Camp" just northwest of the Visitor Center. Hike west, then south, around the west side of Warren Point, meeting a road. Continue south along the road, selecting one of several options to the summit. The road eventually meets the saddle south of Warren Point, and Route 1 wash.
---
Please report any corrections or changes to the Mountain Records Chair.
---