** Use at Your Own Risk **
Location: Kern County, about 9 miles west of Kernville, 185 miles from Los Angeles
Maps
| | |
| --- | --- |
| Auto Club | Kern County |
| Forest Service | Sequoia National Forest |
| USGS Topos | Tobias Peak 7½, Alta Sierra 7½ |
| Official HPS Maps | TPO file - Save to your computer then open with National Geographic TOPO! |
| | Viewable JPG file - Approximately 1.8 megs |
| | GPX file or Google Earth KML file to download to GPS units and other map software (How to use GPX and KML files) |
| | Routes as shown on CalTopo using the above files (How to use CalTopo) |

Nearby Peaks: Bohna Peak, Black Mountain #5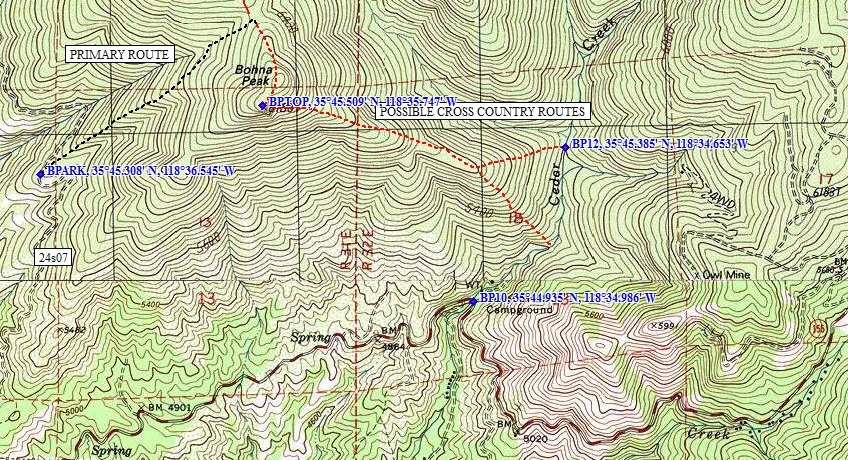 ---
Printable version of this route
ROUTE 1
Distance: 3 1/2 miles round trip on trail

Gain: 1000'

Time: 2 hours round trip

Rating: Class 1, moderate

Navigation: Easy

Leader Rating: "O", normal conditions


Original: Al Campbell, 1972
DRIVING ROUTE 1
From Lake Isabella (city) drive north on SR 155 for 7.0 miles to where it turns left in Wofford Heights.
Drive 7.7 miles farther to Greenhorn Summit. Turn right (north) on 24S15. This is a dirt road just past a maintenance shed. Note your odometer and go as follows:
At 4.3 miles, Tiger Flat Campground. Keep straight on 24S15.
At 6.6 miles, a road junction with a sign "Camp Mountain Meadow GSA". Park here.
HIKING ROUTE 1
A trail (31E66) starts just north of the parking area (7280'). Follow it up the slope to the left, and then west past Portuguese Peak's east side.
Continue 1 1/2 miles to a trail junction (8100').
Turn left (east) and follow the trail to the summit.
---
Printable version of this route
ROUTE 2
From Bohna Peak
Distance: 2 1/4 miles one way on trail

Gain: 2000'

Time: 2 hours one way

Rating: Class 1, moderate

Navigation: Intermediate


Original: Alan Coles, November 1991
DRIVING ROUTE 2
HIKING ROUTE 2
From the summit of Bohna Peak, go down the north ridge to a saddle at 6450'.
Continue about 1.4 miles north along the ridge on a trail over bump 6991' and past a soggy area ("spring" on the topo map) to a point just NE of bump 7473.
Follow the trail as it turns right (east) and continue on trail for about 0.7 mile to a trail junction at 8100'.
Keep right and follow the trail about 1/4 mile to the summit.
---
Learn more about Sunday Peak.
Please report any corrections or changes to the Mountain Records Chair.
---