Red Mountain is located in Kern County, about 18 miles south of Ridgecrest, near the town of Red Mountain, 135 miles from Los Angeles. It is an extinct volcano, located on BLM land. Red Mountain was added to the HPS Peak List in 1977. See the Summit Signature for more history and some background about the name of the peak.
Peak Guides
HPS has two documented routes to the peak. Route 1 is 4 miles round trip with a total of 1600' gain, and follows an old jeep road, a dirt bike track, some easy cross country and a use trail from the penultimate bump. Route 2 is much more cross-country, 3 ½ miles and 1500' gain. While there is dirt road driving to reach the trailheads, it is brief and one could park on pavement and walk in instead.

Older Peak Guides (routes may no longer be legal or safe, use caution!): 1992, and 2003 Microsoft Word version.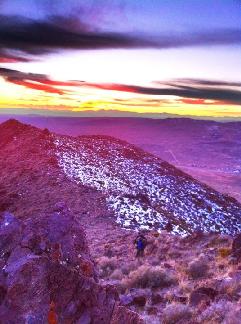 Twilight Ascent of Red
Photo by Mars Bonfire